Our new album, "Year of the Thief" will be available for download on Oct 15th!!
1st single, "Rise and Believe," will be released and available for download on Thursday, July 28.
The Bare Hambones is a roots-rock band that has been performing in the Chicagoland area and throughout the Midwest since 2012.  Fronted by charismatic piano-playing lead singer Tim Larsen, the band's live show is a high energy 50/50 mix of covers and originals.  Their originals can be found anywhere you stream music.  The covers they play range from 50's Rock and Roll to Johnny Cash and Willie Nelson's Outlaw Country to Tom Petty, The Grateful Dead and up to Chris Stapleton's Blues-based Alt Country of the present day.  They cover a wide spectrum of some of the best songs ever released.  The energy of their shows begins with the force that is Brad Riverdahl's drumming and is held together with the foundation of the band, the creative and true bass player Tony Kubicek.  Adding to that rhythm and energy is Mike Brown ("Ladies and Gentlemen, Michael Brown!") who frequently stomps around on stage while strumming his acoustic guitar.  And to top off the music, Chad Hill's vast experience with rockabilly and rock music is a perfect fit for the Roots Rock sound of The Bare Hambones. 
Prepare yourself to cheer and tap your feet if The Hambones are coming to your town.  There will be songs about desire, love, loss, frustration and most of all, whiskey.  Keep an eye on who is singing because they have a few tricks up their sleeves.  An evening out with The Bare Hambones is always entertaining.
Tim Larsen - Piano Player, lead singer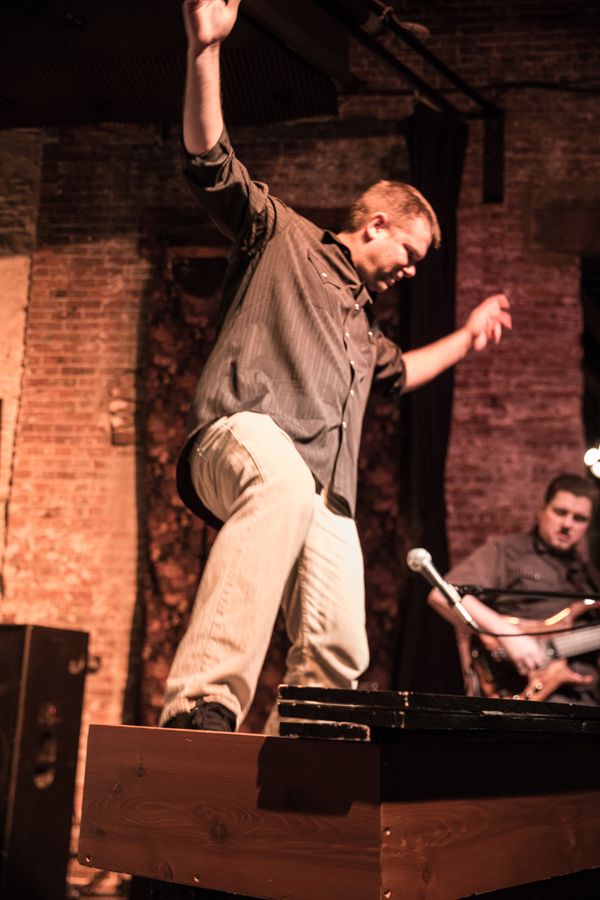 ---
Tim Larsen has been hacking away at the piano since he was about 12 years old.  Never had a lesson, can't read music (which he refers to as 'the dots on the page'), and very much dislikes being referred to as a keyboard player.  And for god sake, don't suggest that he play a keytar.  He's simply just a piano player.
Tim started The Bare Hambones as a way to have a great birthday party.  He got in touch with Brad Riverdahl and the Hambones original bass player, Tim Konn and the idea sounded good enough for the guys to agree to sit in for the night.  Tim's friend Michael Brown had been playing an acoustic guitar for awhile, so he and lead guitar player Johnny Wilson rounded out the initial lineup for the birthday show.  After that night, Tim Larsen, Mike Brown and Brad Riverdahl wanted to keep the ball rolling, so they reached out to the internet and found Tony Kubicek.  Later adding Jeff Cali on lead guitar, The Bare Hambones were up and running, playing shows, writing songs, and recording.
When The Bare Hambones played that initial show, it was the first night since 1992 that Tim sang a lead vocal.  He's still working on getting over the nerves from that night.  He does tend to shy away from attention...